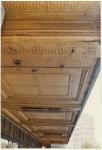 The original pressed metal soffit under the awning of this building, opposite the Central Railway Station in Sydney had been extensively damaged by rusting and by roadway widening. Awning structures are much more susceptible to corrosion than are internal installations due to roof leakage and the corrosive effect of motor vehicle pollutants.

Wunderlite were invited to inspect the awning and make recommendations as to the possibilities of restoring it to original condition.

We advised that there was no possibility of restoring or recovering any of the existing metal. We did ascertain that there were just enough of the original panels to use as patterns for die-making to allow us to reproduce all the designs in aluminium.

We were then contracted by the NSW Public Works Department to make the required dies and supply the complete package of metal to re-establish the original ceiling design.