The Anastasia project involved recreating existing zinc metal ceiling panels to Heritage Listing standards from photos alone. Below is an overview of the evolution of this project.
The original Anastasia zinc metal panels had been demolished a few years prior to the commissioning of their reinstatement. The only remaining reference to the original pattern was in the form of the two photos below.

With no tangible sample, Wunderlite worked closely with the client during the initial stage of the project to produce its own artistic sketch interpretation
of the tile pattern.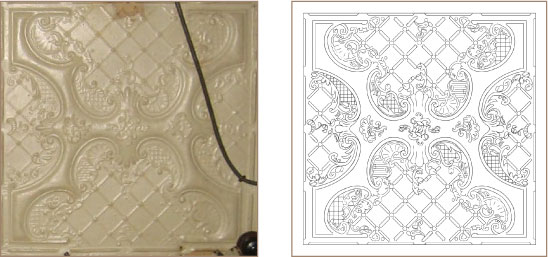 After the 2D artwork was finalised, the sketched pattern was used as a guide to build the 3D model. During the process, a section of the 3D model was prototyped for client's approval.

Once the client gave the go ahead based on the prototype, the remaining Type-9 Pattern was 3D modeled. The press die was then CNC cut from the 3D CAD file data.


With the die complete the metal was then pressed out recreating the embossed pattern to Heritage Listing standards ready to be reinstated and painted on site.